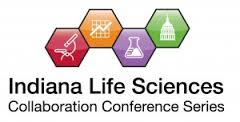 Indiana University's Kelley School Center for the Business of Life Sciences will host a conference titled "Workforce Issues – Life Sciences Human Capital." The full-day conference will take place on Friday, May 12, 2017 at the Cook Group Headquarters in Bloomington, Indiana.
Overview
Since Indiana is one of the nation's largest exporters of healthcare products, how can manufacturers across the state attract, maintain and grow their workforce talent to meet the needs of the industry? How can partners in Indiana's educational systems prepare the workforce of the future? Join stakeholders from both workforce training and acquisition as they discuss current best practices and what lies ahead.
This past May, BioCrossroads and Batelle's TEConomy Partners affiliate issued the report, Indiana's Health and Life Sciences Talent and Workforce: Developing Strategies to Compete in a Global Economy. The report detailed that Indiana's high-skilled work force is above the national average. Additionally, employment is above-national demand for positions in the industry compared to other sectors in the state. Included in the report were four broad strategic priorities to address Indiana's health and life sciences talent dynamics. This conference will update existing efforts in support of the strategic priorities as well highlight new initiatives to bolster the state's life sciences human capital.
This event is part of the Indiana Life Sciences Collaboration Conference Series. Pearl Pathways is a proud sponsor of the Kelley School Life Sciences series. Learn more about the conference or register today to join Pearl Pathways at the event on May 12.