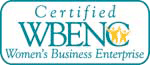 WBENC Certified
Pearl Pathways is certified as a Women's Business Enterprise by the Great Lakes Women's Business Enterprise Council, a regional certifying partner of WBENC (Women's Business Enterprise Council).
WBENC's national standard of certification is a meticulous process including an in-depth review of the business and site inspection. By including women-owned businesses among their vendors, corporations, and government agencies demonstrate their commitment to fostering diversity and the continued development of their supplier/vendor diversity programs.
To get a copy of our certificate, contact us at contact@pearlpathways.com.
AAHRPP Accredited
Pearl IRB is proud to announce its accreditation with the Association for the Accreditation of Human Research Protection Programs (AAHRPP). Pearl IRB earned this distinction by demonstrating two primary techniques including extensive safeguards in all levels of the research operations and abiding by high standards for all research.
Pearl IRB is one of only two AAHRPP accredited organizations in state of Indiana. Additionally, among the list of accredited organizations by AAHRPP include, The National Institutes of Health and Pfizer, Inc., which is the largest industry sponsor of clinical research.
Pearl IRB's accreditation signifies its value in setting and following high standards for quality, ethics, and protection in all of its research.
Click here to read the full press release! To learn more about AAHRPP, visit www.aahrpp.org.