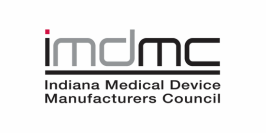 The Indiana Medical Device Manufacturers Council (IMDMC) is hosting a workshop on May 17, 2017 designed to provide someone new to the medical device industry a background in FDA regulation and to hone the skills of more experienced practitioners. This program has been developed to provide practical examples and regulatory information through interactive teaching methods, from experts in each field. Attendees will take a hypothetical device from pathways to market, through clinical trials, promotion and advertising. Participants will then work through recalls, QSR & MDR reporting and inspections, while addressing other areas of regulation along the way.
Pearl Pathways COO and co-founder, Gretchen Bowker RAC, FRAPS, will present during REG 101, which is Day 1 of the two-day workshop. REG 102 will occur the following week on May 24.
What: A workshop exploring FDA regulations of medical devices and pathways to market.
When: Wednesday, May 17, 2017, 8:00 AM to 5:00 PM EDT (REG 101) and
Wednesday, May 24, 2017 8:00 AM to 5:00 PM EDT (REG 102)
Where: The Montage – 8580 Allison Pointe Boulevard, Indianapolis, IN 46250
Are you new to the medical device industry? Do you want to learn more about the FDA and the Pathways to Market? Register here today for one of the classes or register for both at a reduced price!
Day 1 Agenda 5/17/17 (8:00 AM – 5:00 PM)
Breakfast is 7:30 – 8:00
FDA Overview & intro to Hypothetical
Clinical Trials/IDE's
Pathways to Market 510K Requirements
Pathways to Market PMA Requirements
Other Submissions & Special Issues
Pre-Market QSR
Labeling, Advertising & Promotion
Panel Discussion "Linking the Pieces" and Q&A
Day 2 Agenda 5/24/17 (8:00 AM – 5:00 PM)
Breakfast is 7:30 – 8:00
Review of Hypothetical
Post-Market QSR
Complaint Handling/Medical Device Reporting
Sales & Marketing: Regulatory Aspects
Recalls and Field Corrections
Inspections
Other Liability Mechanisms
Enforcement
Panel Discussion "Linking the Pieces" and Q&A
Registration closes this week. Register today to learn from medical device industry experts and network with your peers!