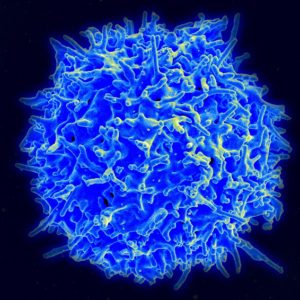 The U.S. Food and Drug Administration granted regular approval to the first chimeric antigen receptor T-cell (CAR-T) immunotherapy in the United States. Dubbed a "historic action" by the agency, FDA approved tisagenlecleucel (KYMRIAH®, Novartis Pharmaceuticals Corp.) for the treatment of patients up to 25 years of age diagnosed with B-cell precursor acute lymphoblastic leukemia (ALL) that is refractory or in second or later relapse.
CAR-T therapy involves using a virus to edit an immune cell (T-cell) extracted from an individual patient, instructing the cell to attack cancer cells within that patient. This autologous process requires individualized treatments for each new patient. Earlier this year, FDA approved the first IND for a CAR-T therapy. FDA Commissioner, Scott Gottlieb, stated that there are currently 76 active INDs for CAR-T therapies and 550 active INDs for gene therapies. However, KYMRIAH will be the first CAR-T therapy on the market. Novartis received a priority review voucher along with the approval.
Study summary
Approval of tisagenlecleucel was based on a single-arm trial of 63 patients with relapsed or refractory pediatric precursor B-cell ALL, including 35 patients who had a prior hematopoietic stem-cell transplantation. Of the 63 patients who were evaluable for efficacy, the confirmed overall remission rate as assessed by independent central review was 82.5% (95% CI 70.9, 91.0), consisting of 63% of patients with complete remission (CR) and 19% with complete remission with incomplete hematological recovery (CRi).1 FDA approved tisagenlecleucel with a Risk Evaluation and Mitigation Strategy from Novartis to ensure that the benefits of the treatment outweigh its risks. One common adverse reaction to CAR-T cell therapies is cytokine release syndrome (CRS) Also known as cytokine storm, CRS is a potentially fatal immune system reaction consisting of a positive feedback loop between cytokines and white blood cells, with highly elevated levels of various cytokines. Also on August 30, 2017, FDA approved Genentech's Actemra (tocilizumab) for the treatment of CAR-T induced cytokine storm. Genentech also received Priority Review and Orphan Drug Designation for Actemra.
Outcome-based payment aims to mitigate sticker shock
One-time treatment will cost $475,000. Novartis claims that this price fell well below their internal value-based assessment. Joseph Jimenez, CEO of Novartis, announced that there will be no charge for the therapy if there is no response within the first month.2 Indeed, Novartis will collaborate with US Centers for Medicare and Medicaid Services (CMS) "to make an outcomes-based approach available to allow for payment only when pediatric and young adult ALL patients respond to Kymriah by the end of the first month. Future potential indications would be reviewed for the most relevant outcomes-based approach."3
Pearl Pathways can help your company navigate the complex regulatory landscape towards a pre-IND meeting, new IND filing, 510k submission, and more. Please contact us today to schedule a conversation with our team of industry experts.
1http://hoparx.org/drug-updates-from-the-fda/tisagenlecleucel-kymriah-novartis-pharmaceuticals-corp
2http://www.raps.org/Regulatory-Focus/News/2017/08/30/28367/Historic-Action-FDA-Approves-First-CAR-T-Therapy/?utm_source=Email&utm_medium=Informz&utm_campaign=Weekly-Update
3https://globenewswire.com/news-release/2017/08/30/1104337/0/en/Novartis-receives-first-ever-FDA-approval-for-a-CAR-T-cell-therapy-Kymriah-TM-CTL019-for-children-and-young-adults-with-B-cell-ALL-that-is-refractory-or-has-relapsed-at-least-twice.html