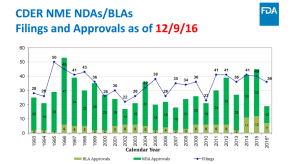 Record approvals of new drugs in 2014 and 2015 likely won't continue in 2016. Even so, the total number of filings remains just above the average. FierceBiotech examined the numbers yesterday and tried to uncover the meaning.
According to John Jenkins, the soon-to-be retired director of the Center for Drug Evaluation and Research (CDER) at the FDA, approvals of new molecular entities (NMES) currently stand at 19, well below the 45 NMEs approved in 2015. Novel drugs and biologics currently being reviewed by the FDA will also fall short of the 2015 numbers but align close with 2014. Jenkins attributes 2016's underwhelming numbers in part due to five drugs that were slated for 2016 approval that received a green light ahead of schedule in 2015. A significant increase in applications resulting in a complete response letter (CRL), meaning they did not achieve the adequate approval mark, also increased from 2 in 2015 to 12 this year (so far). The FierceBiotech article notes that the hike in CRLS could be the effect of a "greater use of speedier approval pathways designed to accelerate access to new medicines [that] is raising the risk of failure at the first hurdle."
Jenkins felt encouraged by this year's large share of innovative medicines in the total number of approvals. Over one third are designated for rare diseases, 37% are first-in-class drugs, and 8/10 received clearance in the US ahead of other markets. Pearl Pathways is well equipped to support your NME NDAs/BLAs submissions to help your organization receive approval efficiently and expedite your product's pathway to market.