The U.S. Food and Drug Administration's (FDA) Center for Device and Radiological Health (CDRH) released new data stating that the number of quality systems surveillance inspections for foreign manufacturers increased by 30%, despite the minor overall growth from 2013 to 2014. The increase in foreign inspections provides evidence that the center's efforts have been working, according to Zachary Brennan, RAPS.
Currently, Chinese manufacturers are requiring more inspections, with Germany and Japan following suit. Although inspections increased abroad, the result of warning levels decreased. The chart below demonstrates the outcomes from domestic inspections compared to foreign inspections.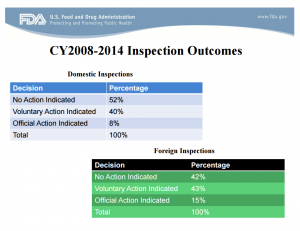 To read Brennan's article on raps.org, click here.