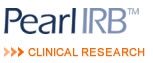 Pearl IRB is an independent institutional review board. Our team is comprised of experts in the fields of medical practice, science, ethics and clinical research. We will ensure that a quality, timely review of proposed studies is conducted in the best interest of the patient, sponsor and research institution.
You need high quality, timely reviews so that you can get your study in the clinic. Pearl IRB will efficiently manage your local or central IRB needs so that you don't have to worry about this critical piece of the research process. Whether the study is a small one site project, or a complex multi-center study, we can serve your requirements. Our Board has decades of IRB and research experience and their expertise ranges across therapeutic categories, drugs, biologics, devices, and all phases of research. We serve large and small institutions, principal investigators, CROs, and sponsors. Core service offerings include:
Pearl IRB believes that complete and accurate preparation of these documents is key to getting a study initiated in a timely manner. We are willing to work with you up front to ensure that the submission packet is ready for a successful IRB review.
For more detailed information about Pearl IRB please visit http://www.pearlirb.com/
Fee Schedule:  To view a copy of our IRB Fee Schedule, please click here.  Study requirements do vary, so please contact us at info@pearlirb.com for a detailed pricing quote for your research project, or to get more information about our additional clinical research support services.